Public Library Receives Out of This World Opportunity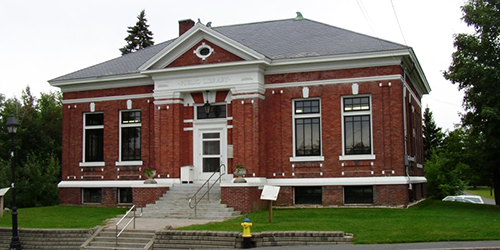 Library Selected as Only NASA@My Library Grant Recipient in Maine
With more than 17,000 books, the Fort Fairfield Public Library has been a destination for readers young and old looking for inspiration, education and exploration since it was built in 1913. Now, thanks to its selection as a participant in the NASA@My Library Program, the library will be able to open a new chapter of discovery for students, transporting children to the far reaches of the universe to learn more about space while gaining skills that could prepare them for their own future explorations in science, technology, engineering, and math.
"The library is thrilled to have been selected from more than 500 applicants for this project!" exclaimed youth library assistant, Dianna Leighton. "With the tools, funding, and support provided by the NASA@My Library initiative, we'll be able to share the exciting world of astronomy in fun and exciting new ways, connect with libraries across the country, and build community partnerships. It's almost as neat as a trip to Mars!"
The NASA@My Library Program will provide the library with a host of space-related educational materials for students focused on increasing proficiency in STEM (Science, Technology, Engineering, and Math) disciplines while generating more interest and understanding about the world around us, and beyond our exosphere. Included in the program are two NASA STEM Facilitation Kits designed for use in hands-on STEM programming facilitated by library staff or outside groups, such as NASA subject matter experts. The library will also receive a tablet computer, pre-loaded with apps, educational games and visualizations relevant to the kit materials, $500 to assist with programming, ongoing training for staff and financial assistance to allow Leighton to travel to Denver for a two-day NASA workshop.
The library has already begun planning for special events to introduce children and community members to the NASA@My Library programming including a chance to live stream the launch of the Russian Soyuz manned rocket with Expedition 52/53 crew on
Friday July 28th, 11-12:30 p.m.
Kids ages 5-10 who attend with a parent will also be able to build their own air-powered rocket! On
Monday August 21st from 1-4 p.m.
the library will offer children of all ages a chance to watch and learn about a solar eclipse. This outdoor program will use solar viewing glasses to watch the eclipse and children and families will have chance to make solar eclipse books based on their observations.
"We are excited to be able to bring programming that will inspire and support STEM fields to children and parents of all ages in Fort Fairfield," stated Library Director, Jennifer Gaenzle. "The library plays a wonderful role in a child's life, by providing a safe, empowering space for learning and development."
The NASA@My Library Project will allow the Fort Fairfield Public Library to continue to offer a variety of engaging and family-friendly programs and story times for all ages, with topics ranging from rocketry, eclipses, moon craters, and climate change.
The NASA@My Library project is led by the National Center for Interactive Learning at the Space Science Institute. Partners include the
American Library Association (ALA) Public Programs Office
, Pacific Science Center, Cornerstones of Science, and Education Development Center. NASA@My Library is made possible through the support of the National Aeronautics and Space Administration (NASA) Science Mission Directorate as part of its STEM Activation program.
To learn more about our NASA@MyLibrary programs being offered at the Fort Fairfield Public Library, contact Dianna Leighton at
This email address is being protected from spambots. You need JavaScript enabled to view it.
or 472-3880. Program information will also be shared on the library's Facebook page,
https://www.facebook.com/fortfairfieldpubliclibrary/