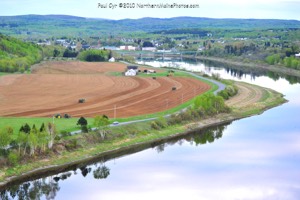 Fort Fairfield is located in central Aroostook County, Maine. This vibrant community of 3500 is the 6th largest municipality in The County. Fort Fairfield is named after Governor John Fairfield, who served two terms as Maine's Governor.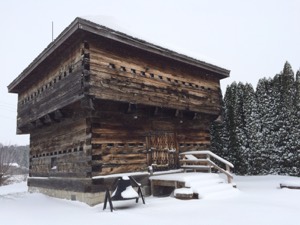 Fort Fairfield was settled in 1816 and incorporated as a town on March 11, 1858. A fort was constructed to protect the region during the Aroostook War. The replica blockhouse pictured above was built in 1976 and now houses a treasure trove of historical artifacts.
The town lies on eastern Canadian border and is a dual township, meaning it consists of two six mile by six mile parcels with a total area of just over 78 square miles - comprised mainly of thick woods and fertile farmland.
Once the Potato Capital of the World, agriculture continues to play an important role in our economy with large potato, broccoli and livestock farms spread throughout the town's borders.
The powerful Aroostook River cuts through the community. Once an important means of transportation for timber operations and power for starch mills, the Aroostook River is now a recreational resource.
Fishermen line its banks in the spring and summer. Nature lovers, especially those hoping to catch a glimpse of the many bald eagles that nest in trees high above the water or the moose searching for a cool drink, are certain to be entertained as they explore the many species that call the valley home. Canoeists and kayakers from near and far are drawn to the Aroostook to padde along with the current.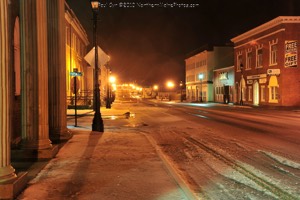 Downtown Fort Fairfield also lies on the banks of the Aroostook River. The downtown has numerous businesses, including banks, restaurants, grocery and convienence stores, gift shops and a full-service post office.
Fort Fairfield also hosts one of the largest festivals in all of northern Maine, the annual Maine Potato Blossom Festival. The nine day event draws thousands of people from throughout the region to celebrate the town's agricultural roots and enjoy numerous activities including concerts, a large parade, artist exhibitions, athletic contests and a spectacular fireworks display over the river. The events start on the second weekend of July with a town-wide yard sale among other activities - with the parade, street dances and fireworks taking place on the third weekend of July.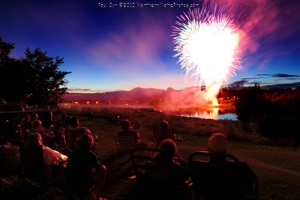 So whether it is for a weekend, or a lifetime, come spend some time in Friendly Fort Fairfield and see for yourself why this community in the County is such a special place to call home.