International Appalachian Trail


The International Appalachian Trail (IAT) was created by volunteers in Maine, New Brunswick, and Quebec 20 years ago. The IAT starts east of Baxter State Park (the northern terminus of the Appalachian Trail) and makes its way over more than 700 miles to Cap Gaspe, Quebec.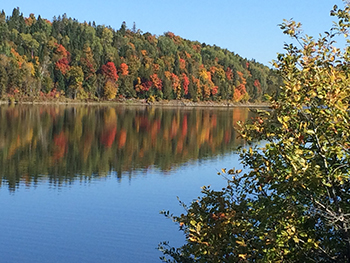 The IAT travels along the Maine - New Brunswick border before crossing the international border between Canada and the United States in Fort Fairfield.




There is a trailhead located at the end of Sam Everett Road in Fort Fairfield for people interested in hiking this scenic section of the trail (NOTE: Hikers must call the U.S. Border Patrol in Fort Fairfield, 207.472.5041 before walking on the border clearing trail and say when they will be hiking there. Hikers must stay inside the cleared area of the border until crossing into New Brunswick. A valid passport is required for all hikers entering either Canada or the United States).
For thru-hikers, Fort Fairfield offers a host of services including a grocery store, restaurants, drug store, banks, laundry mat, and health clinics a short distance from the trail. Currently, there are no lodging accomodations available in Fort Fairfield, but there is a lean-to available for overnight use along the Fort Fairfield section of the trail (at mile 134 north from Baxter State Park). No fires are allowed at the campsite.

Related Links:
International Appalachian Trail
US Customs and Border Protection
Canada Border Services Agency