August 17, 2020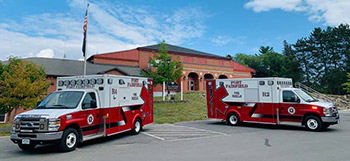 To: All Media
From: Andrea L. Powers, MPA, Town Manager
Subject: Fort Fairfield Fire Rescue Ambulance Service
It's with great pleasure that I announce the start of Fort Fairfield Fire Rescue Ambulance service effective today, August 17, 2020.
This 24-hour, full-time service has taken over a year to come to completion and I am confident that we are now operational and ready
to serve the citizens of Fort Fairfield. Our staff has spent many hours working diligently for the citizens, creating this exceptional service
for our community and we are thankful for our Town Councilors that have supported us through this entire process.
Fort Fairfield Fire Rescue has two, new, state-of-the-art ambulances that will be staffed with Emergency Medical Technicians, Advanced-EMT's,
and Paramedics. Our staff will provide the latest and most advanced patient care possible. Fort Fairfield Fire Rescue was certified by the State of Maine, Maine-EMS on Friday, August 14, 2020.
Fort Fairfield Fire Rescue has six full-time staff members and seventeen paid-on-call and per diem staff members.
Citizens will continue to call 9-1-1 for emergency calls and may call 207-472-3809 for non-emergency services.